20% BAFA subsidy for rendeMIX with high-efficiency pump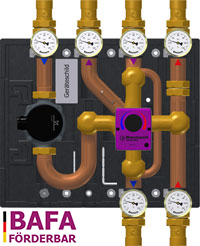 As of now, our classic 2-circuit return utilisation assemblies with built-in pump are on BAFA's list of eligible pumps.
"The subsidy amounts to 30 % of the net investment costs for services related to both the replacement of heating circulation pumps and hot water circulation pumps with high-efficiency pumps and related to hydraulic balancing, up to a maximum of 25,000 euros per location." (Source: bafa.de)
Through this funding programme, our "a" Assemblies with integrated high-efficiency pump even cheaper than Without pump. This way, your customers end up saving even more on their investment and also receive a new pump.
Anwendungsbeispiel Brennwert-Therme-2-Heizkreise
Anwendungsbeispiel Brennwert-Therme-3-Heizkreise
Endkundenbroschüre Brennwert – Rücklaufnutzung
Zur Liste förderfähiger Pumpen der BAFA
(Unter HG Baunach GmbH & Co. KG)
Weil rendeMIX den Rücklauf der Heizkörper zum Vorlauf der Fußbodenheizung macht, fließt das Wasser viel kälter zum Brennwertkessel zurück. Durch kälteres Rücklaufwasser entsteht mehr Kondensat und mehr Wärme aus dem Abgas gelangt in das Heizungswasser, so dass durch rendeMIX Rücklaufnutzung weniger Gas oder Öl benötigt wird. Zusätzlich entfallen die hydraulische Weiche samt Fühler und Reglermodul sowie die Heizkörperpumpe.