Technical advice
We tailor our product advice and the preparation of our hydraulic plans to the individual needs of our customers. With our calculation of your heating system, we make it clear that the rendeMIX is an assembly that manages to save precious energy and utilise it more efficiently. We are also available to answer general questions about optimal heat distribution in heating systems.
In the section "Hydraulic plan finder" you can find your desired hydraulic plan quickly and easily. Simply answer a few necessary questions that our consultants would also ask you in a conversation! After less than a minute you will receive your hydraulic plan as a pdf file for download.
You can reach us by phone without paying for an expensive hotline or being lost in long waiting loops. We can help you on the phone, by fax or by email. We are also happy to have a nice chat with you here in our company. We also enable efficiency at the highest level through our hydraulic integration of various heating components. With the use of our rendeMIX components, the heating systems you install will experience a high-quality optimisation and increase in regenerative heat.
We are pleased to introduce Mr. Till-Marlo Lüking, our Sales Manager for the Northern Germany area.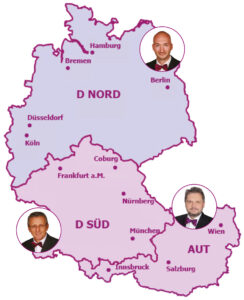 For Mr. Lüking, the environmental concept is of paramount importance. As a trained central heating and ventilation fitter and state-certified technician specialising in environmental protection technology, several aspects connect him with Baunach and its products.
"I am sure I can help you too!"
You can reach Mr Lüking under the mobile number +49 (0) 151 / 15 69 35 21 or by email at lueking@baunach.net.
We are pleased to introduce Mr. Gerhard Kühnel, our sales engineer and sales manager for the Southern Germany area.
Thanks to his experience as a sales and project engineer with well-known boiler and CHP manufacturers and his passion for project business in close cooperation with the trade, specialist planners and specialist wholesalers, Mr Kühnel fulfils our vision of offering you the best possible services for project development, planning, installation and operation of Baunach Rendemix multi-way mixers as well as Baunach system components, such as our Baunach 2 and 3 chamber heating circuit manifolds and buffer storage systems. Mr Kühnel has always been enthusiastic about technically high-quality products. For over 10 years, our Baunach system components have been used in their entire variety in many of his projects.
You can reach Mr Kühnel under the mobile number +49 (0) 151 / 15 70 37 18 or by email at kuehnel@baunach.net.
Wir freuen uns Ihnen hiermit Herrn Heinrich Peter Payr-Steiner als Ihren neuen Baunach-Partner in Österreich vorstellen zu dürfen.
Als gelernter Elektro-, Gas-Wasser- und Heizungsbaumeister liegen seine Wurzeln im Handwerk, mit denen er fachlich auch die gesamte Bandbreite der heutigen Gebäudeenergietechnik abdeckt.
Im Rahmen seiner langjährigen Tätigkeit hat er seit 1995 mit Wärmepumpen sowie mit regenerativen Solar- und Photovoltaikanlagen gearbeitet und ab 2000 mit BHKW sowie ab 2014 mit Biomasseanlagen.
Aufgrund seiner bisherigen Erfahrungen sieht er bei der Lösung seiner Aufgaben immer das große Ganze, seine Rolle immer als Gewerke übergreifend, was ihn auch zu einem überzeugten Anhänger der Baunach Hydraulikkonzepte gemacht hat.
Nicht erst seit dem jüngsten Anstieg der Energiepreise setzt er seine ganze Kraft und sein ganzes Können dafür ein, für seine Kunden die wirtschaftlich beste Lösung zu erreichen, welche in aller Regel die langfristig schonendste Verwendung von Ressourcen erreicht und damit die umweltfreundlichste ist.
Profitieren auch Sie von dieser neuen Kompetenz ganz in Ihrer Nähe! Sie erreichen Herrn Heinrich Steiner ab sofort unter der Mobilnummer +43 676 / 73 05 044 oder per E-Mail unter steiner@baunach.at.
Seminars
A heating system is like a football team: the best players are of little use if no one takes on the task of forming a team out of eleven professionals. The connecting element of every heating system is the hydraulics and it is not uncommon for the efficiency of individual components not to be fully utilised because they are not competing with each other but against each other.
Das geht auch besser: Unter dem Motto "Hydraulik einmal ganz ohne Ballaststoffe" veranstalten wir unser mittlerweile schon bekanntes Hydraulikseminar.
The next seminar:
5 years warranty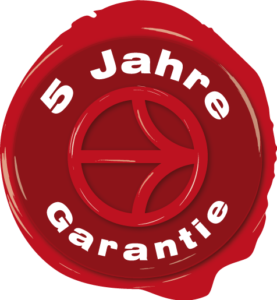 Your customers trust you as a specialist tradesman and expect professional execution according to the latest state of the art with the best comfort and highest efficiency. This also includes a durable installation that retains its value. That is why we have opted for a durable design and corrosion-resistant materials such as copper, gunmetal and brass. The wear surfaces are additionally mechanically compacted (roller-burnished) and the seals are generously dimensioned.
We have carried out endurance tests on our test benches which enable us to give you a guarantee on material and wear for our products for a full 5 years - no ifs, ands or buts!
Do you still have questions? We will be happy to help you