IFH Nuremberg from 26-29 April 2022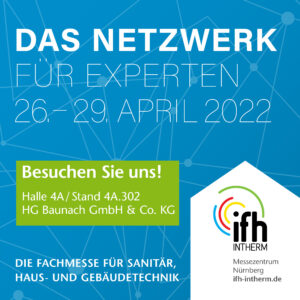 At this year's IFH in Nuremberg, we will again be showing solutions on the subject of "Efficient hydraulics in heating systems".
For years, low return temperatures and excellent stratification in the buffer tank have been part of the rendeMIX trademark.
Our company has many years of experience in the field of return utilisation to increase the efficiency of condensing boilers, as demonstrated by numerous technical articles on the website http://www.baunach.net/downloads  prove. We now offer efficient solutions not only for condensing boiler systems, but also for heat generators such as solar thermal systems, CHP units, fuel cells, heat pumps and wood boilers, as well as for large distribution systems. In addition, specialist tradesmen and planners are supported in the design of the components. The production of individually adapted hydraulic plans additionally facilitates the planning and implementation of a concept for the customer.
Solutions for controlling the volume flows in the individual consumer and generator circuits will be on display at IFH Nuremberg 2022.
And because this innovation, as well as a large part of the previous product range, is recognised as an equivalent innovation to hydraulic balancing, almost all of our products are subsidised by BAFA as part of hydraulic balancing.
Visit us in Hall 4A Stand 302
We look forward to seeing you!